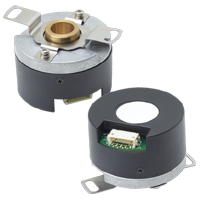 ■Feature
・39-bits resolution: 16-bits battery backup multi-turn
& 23-bits optical single-turn
・Communication protocol is selectable from 3 types.
BiSS C mode, SSI mode and RS-485 half-duplex
・Outer diameter 37 mm and typical mounting height 28 mm.
・Estimated lead time : 16weeks.
→37HA-MB series data sheet is available in PDF here.
List of ordering selection for protocol and shaft OD.